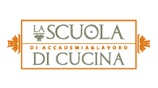 Excellence in the culinary field
The Scuola di Cucina is an Italian school with international appeal aiming for excellence in the culinary field. Courses are designed to export the best of the Italian culinary tradition abroad.
Cookery classes in Tuscany
The Cuisine Academy is located in the specialist laboratories of the elegant Borgo Palace Hotel, in the heart of the striking region of Tuscany; famous for its ambience, countryside and the finery of its cuisine.
The school is furnished with modern equipment which, together with the quality of teachers, guarantees the best professional training.
The school's history dates back to 1951 with the founding of Scuola Radio Elettra (an accredited centre for vocational training in Italy) which the Scuola di Cucina is an integral part of. 
Courses offered
Chef
Pizza chef & Baker
Pastry chef
Ice cream maker
Courses are composed both of theoretical and practical classes and also include an optional internship period at a business within the culinary industry.
For more information about Scuola di cucina, visit our website: www.scuoladicucinasre.it
To contact us, or to collaborate with us, please click here.