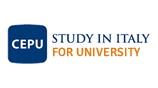 Get a degree in Italy
CEPU Study in Italy runs a personal assistance service for international students who want to study at an Italian university. The assistance service is available starting from admission and is accessible for the entire study path until students achieve their degree.
A highly satisfying experience
Over 100 thousand international students have chosen an Italian university for their academic studies, and the number's growing. The satisfaction level of those who have undertaken a study experience in Italy is extremely high. There are however some factors which can slow down a student's study path and dampen enthusiasm; that's why CEPU – the most well-known Italian university preparation service - has launched a university study and support service in order to help international students get their degree in the time allocated and with excellent results.
The CEPU assistance programme
The programme includes bureaucratic, logistical and academic assistance in all of the major Italian cities: students are supported during their integration into university and social life, as well as with finding suitable accommodation and for completing the bureaucratic procedures that are necessary for life in Italy.
For more information about University in Italy, visit our website: www.cepustudyinitaly.com
To contact us, or to collaborate with us, please click here.