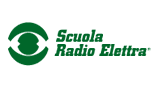 Practical training since 1951
Scuola Radio Elettra is the Italian accredited centre for vocational training in the Electronics, Computing, Plant Design and Renewable Energy sectors. 
A long-standing history in teaching
Well-known in Italy, the school boasts a long-standing history in teaching: founded in 1951, it has already trained around 1 million people.
Recognised Qualification
Every year, Scuola Radio Elettra conducts over 30 courses which issue a professional certificate of qualification legally recognised  by the Region of Umbria (Italy) and valid throughout the European Union.
Teaching method
Key aspects of the training method at Scuola Radio Elettra include: essential theoretical grounding; practical workshops; personalised teaching; constant support from staff; and the latest equipment and technologies.
For more information about Scuola Radio Elettra, visit our website: www.scuolaradioelettra.it
To contact us, or to collaborate with us, please click here.