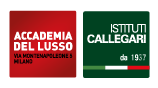 Italian School for professional training
Accademia del Lusso offers high-level education and professional training in a wide range of fashion and design disciplines. Its department Istituti Callegari is specialised in the sphere of Design.
Professionals' experience
Teaching methods are innovative, advanced and creative, and have been developed thanks to the expertise and experience of Accademia del Lusso's teachers; all of whom are established professionals in the Fashion, Design and Luxury Industries.
100% Italian style
Artistic sensibility, taste, attention to detail and creative genius: being Italian is a distinctive cultural value which is unique in the world. The courses at Accademia del Lusso School of Fashion and Design train the new professionals of Made in Italy. The purpose of this approach is to support talented people and prepare them according to a model which is recognised and appreciated worldwide.
Milan, the heart of fashion
Accademia del Lusso's main location and headquarters are located in Milan at No.5 Via Montenapoleone, Italy's most exclusive and fashionable street.  Milan is the heart of the world's fashion Industry and is a mandatory stop for all those who hope to enter the fashion business environment as genuinely qualified professionals.
Accademia del Lusso is legally registered in the Regional Registry of Operators accredited for Professional Training and Education Services within the Lombardy Region (no. 737).
Istituti Callegari
Istituti Callegari, Accademia del Lusso's department of Design, is specialised in training the key professional figures active in the sphere of Design. The Callegari method, extensively used and in demand within fashion businesses, boasts a historical tradition which dates back to 1937.
To contact us, or to collaborate with us, please click here.