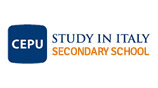 High school diploma in Italy
CEPU gives students from all over the world the opportunity to enrol at a Secondary School in Italy in order to achieve their secondary school diploma.
CEPU's assistance includes:
Guidance interview to help students choose secondary school type
Intensive Italian language course (prior to school admission)
Enrolment and attendance at chosen secondary school
Extra daily afternoon help in all school subjects (one to one classes with a personal tutor)
Study of the English language
Board and lodging with a host family or at a school residence
Completion of all bureaucratic procedures (including help with obtaining a visa)
Taxes, school fees and medical insurance
The personal tutor
Each student is supervised daily by a tutor for the afternoon studying of school subjects, using the CEPU registered tutoring method. Tutors are expert teachers who provide complete and exhaustive academic support.
They are specialists in learning and study techniques and are a solid point of reference on the path towards obtaining the secondary school diploma, both for students and their families.
For more information about Cepu Study in Italy, visit our website: www.cepustudyinitaly.com
To contact us, or to collaborate with us, please click here.