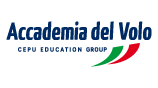 Become a Pilot
Accademia del Volo provides aeroplane and drone pilot training for all those who want to transform their passion for flight into reality.
Accademia del Volo
Located at San Francesco d'Assisi international airport in Perugia (Italy), Accademia del Volo provides high-level theoretical and practical pilot training for both aeroplanes and drones taught by experienced flight instructors.
Accreditation
Accademia del Volo flight academy is an Approved Training Organisation accredited by the Italian Civil Aviation Authority (ENAC).  All courses are held in accordance with EASA regulations.
International Students
We welcome international students from around the globe and offer a full personal support service to help them make the most of their flight training at Accademia del Volo.
Aeroplane Pilot Training Courses
Airline Transport Pilot Licence (ATPL)

Private Pilot Licence (PPL)

CPL/LAPL Licences

IR/MEP/SEP/MCC/FI-IRI-CRI Ratings

Differences Training

Examiner Certificate

Conversion courses from ICAO to EASA licences
For more information about Accademia del Volo, visit our website: www.accademiadelvolo.it
To contact us, or to collaborate with us, please click here.